Designer Spotlight: Temperley London
Hello WildBrides! I am very honored and excited to announce that we are welcoming Temperley London Bridal into our boutique for our first trunkshow in 2018. The event will take place from January 5 to January 14 and due to limited space, make sure to book an appointment as soon as possible! Temperley London is one of the of the top bridal brands around the world and their collections have been featured on Vogue, Business of Fashion, and Elle UK – to name a few.
As founder of Temperley London, Alice Temperley has personally inspired me both as a designer and a businesswoman. She has become an important figure in my life as she is one of the main reasons for my love of bridalwear and uniquely beautiful & detailed gowns. I had come to Temperley London in Notting Hill one summer after studying fashion abroad in Italy back in 2005 while attending university in Milan, and the experience has created a lasting impact on my life since then. As a recent graduate, not only was it and honor to work at a prominent fashion house as Temperley but also to work with a talented and created woman such as Alice. Her artistic nature was contagious and inspired me to eventually venture into the wonderful field of bridalwear.
Alice is a British born designer form Somerset, England. She describes her upbringing as very free and says that she wants that to reflect in the work that she puts out. Alice started off designing clothing in the late 90's as a way to pay herself through college, and eventually learned the strings of managing a business. By the time she had graduated college, she was able to create small line and sell her dresses in 15 different boutiques. By the year 2000, she had founded her eponymous brand. Her original vision for the brand was to concentrate exclusively on ready-to-wear pieces but as time went on, Temperley branched out to couture.
Though Temperley has become a prominent brand within the fashion industry, her roots stay true to a bohemian, wanderlust-driven bride – a style which has always remained present throughout her career and is still reflected in current collections. The Temperley brands creates unique wedding gowns by concentrating on every inch of details in dresses. Alice's current methods of designing embroidery requires sketching out details for the bride, sometimes making multiple alterations before the finalized design is etched out into a life-size scale. The embroidery is then built from scratch, including lace and sequin stitching à la main to create one delicate and fabulous finished garment.
Alice Temperley is a woman with an eye for details and traditions, she holds that true when it comes to designing future collections. This is also true when it comes to keeping her company and audience connected. Every summer, Temperley hosts a White Party traditionally started by her parents in her adolescence, and about 18 years ago she took over the tradition and integrated it into her company. The event is an overnight, two day event in her hometown of Somerset, England. Guests are encouraged to wear white couture and bridal gowns that hold a whimsical theme. Some guests even take it a step further by wearing wings, masks and headdresses to truly give it a magical touch.
Her styles have often changed over time but they always carry a certain level of enchantment and romanticism, much like stepping into a painting or a fantasy world. For example, past collections such as the Ophelia 2012 Collection contains pieces inspired by ancient Egyptian fashion like our Goddess dress, which mimics trends popular in New Kingdom Egyptian fashion, such as a kalasiris. The current bridal collection consists of classic Hollywood styles from the 1930's that also embrace a more modern presence. Other gowns in the collection embrace the fairytale vision, sporting empire waists, long sleeves and dramatic chiffon capes with intricate beading and embroidery.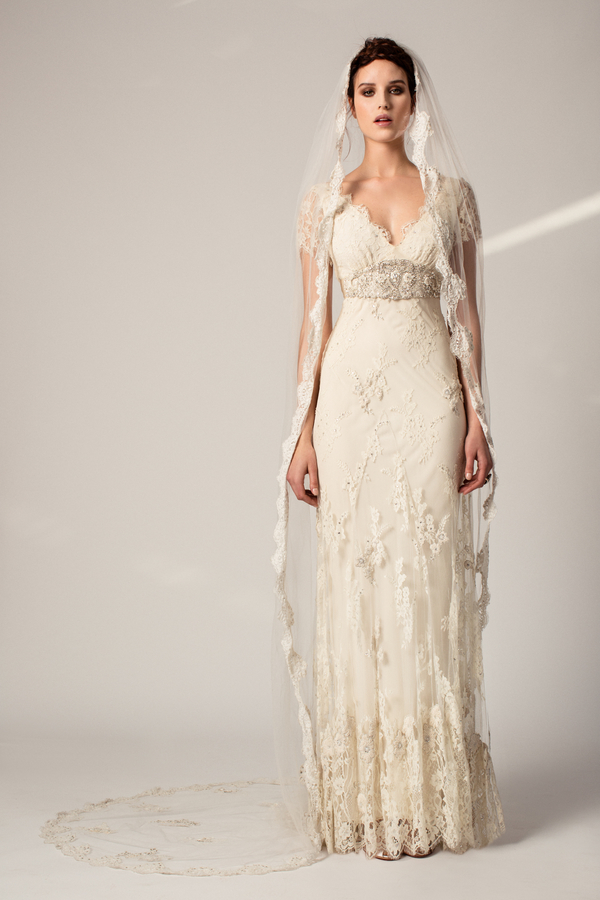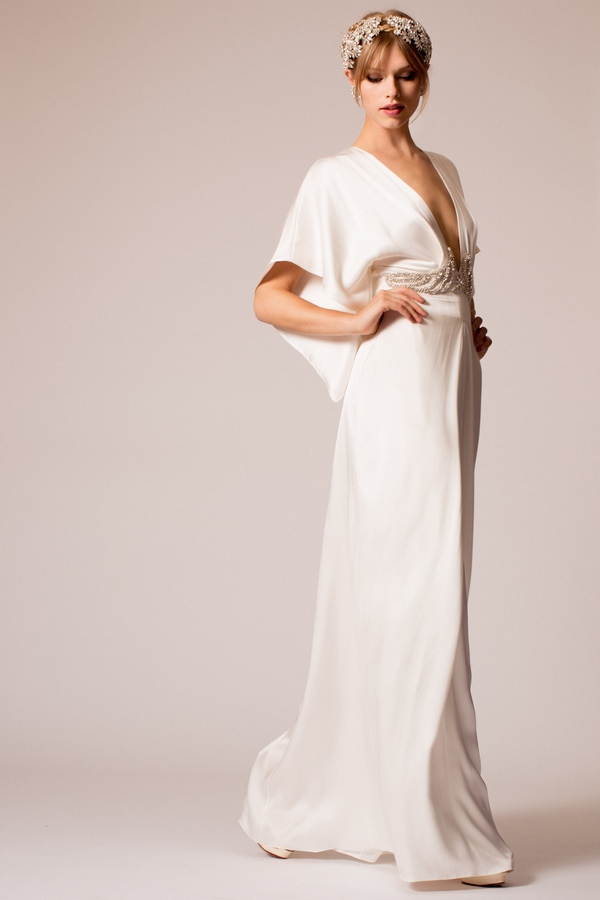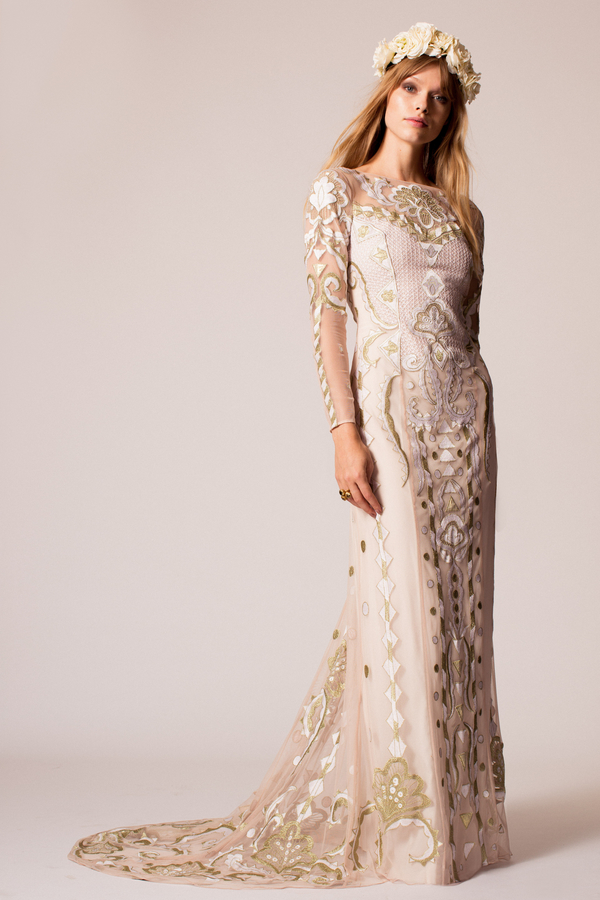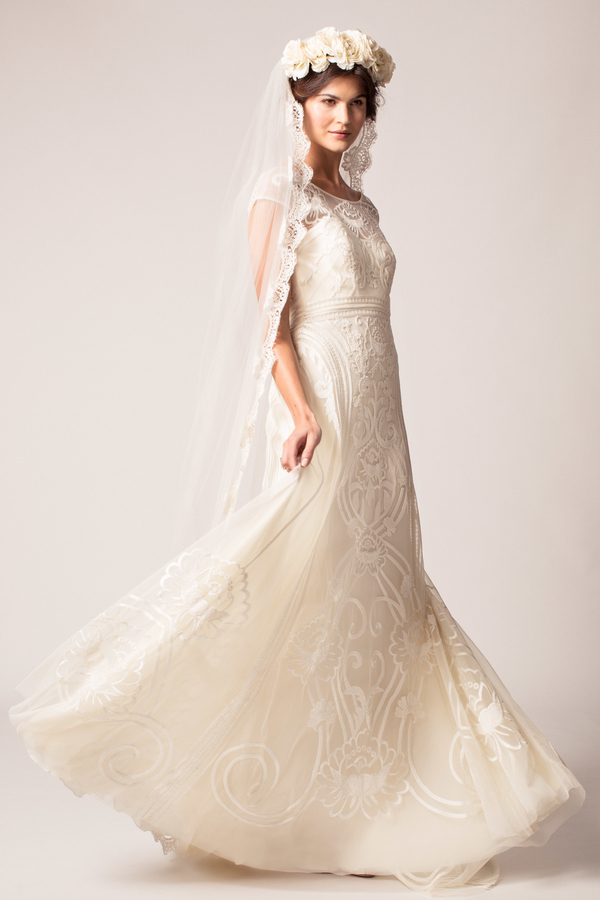 We are very excited to carry the Temperley Bridal collection, some of our favorites include; Peri, Goddess and Chrys. The collection is diverse which welcomes a wide variety of brides to express their unique styles, and ensures that she will find something to her liking. Whether that be the elegant art deco inspired wedding gown such as Elodie, or dreamy, romantic, and delicately bluebell and lotus flowered print of the Peri dress, you will find a dress that is as unique as you are.